Memorable Day at KCD Chennai 2023
[Cover Image Credits: KCD Chennai]
Attending KCD Chennai was a fabulous experience. I got to connect with folks who I knew from the Twitter tech community. The day started with registrations and a brief on the agenda of the planned talks throughout the day.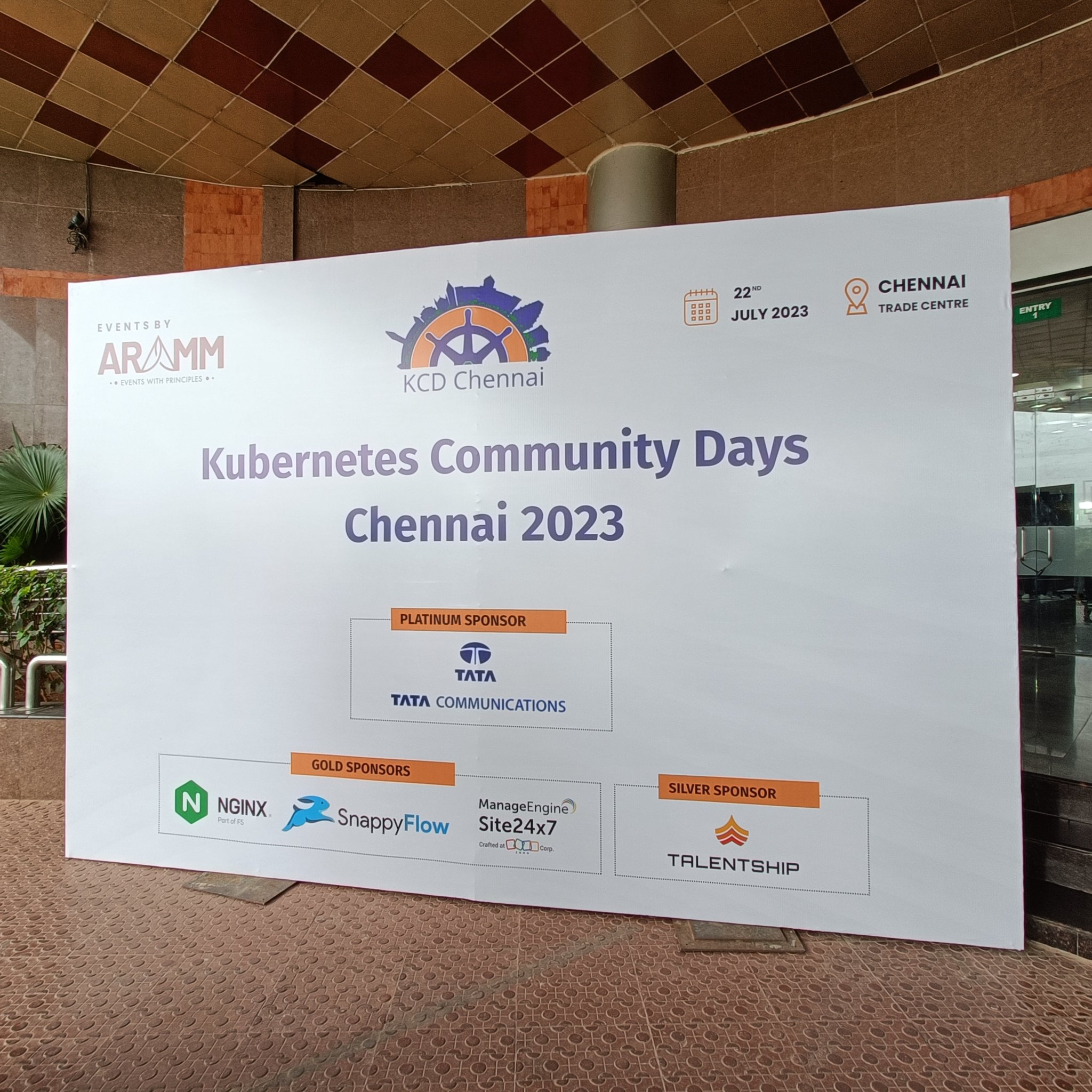 After the kick-off by the organizers, the event officially commenced with an interesting panel discussion revolving around the nuances of platform engineering. The discussion began with understanding - what is cloud-native, the need for Kubernetes clusters, does it fit your use case.
The discussion was more open-ended and opinions were shared both from experience and hypothetically addressed when it came to standardization in multi-cloud strategy and challenges. Leading with the ideas for automated application deployment and package management and the emerging need for internal developer portal with organizations which was backed with the net value add it provides for certain abstractions.
Followed by 2 energizing keynote addresses:
Need for Cloud Native Push by Vishnu Sharma

Navigating through the cells of lifecycle management, agile development, increased velocity to fasten the deployment cycles, and orchestration of workloads - Vishnu explained the essence of how cloud native is fueling customers' business imperatives, helping integrate next-gen technologies and making businesses future-ready.

Taking control of the reliability of your cloud-native services by Uma Mukkara

Uma took us through the details of DevOps Challenges, Retaining reliability, performing chaos on Cloud Native services to ensure better resilience through the process of how chaos is done, what approaches are to be considered while doing chaos, how to achieve chaos maturity and how resiliency score is supposed to be measured and by bursting some myths.
We then had a small break for some tea/coffee and biscuits. It gave us a chance to interact with speakers, other attendees and participate in the Quiz. There were Tata Communications, Nginx, Snappy Flow, Talentship and Zoho booths.
After the break, the sessions resumed with the talks for the day:
Anand @anafrajosep shared on ArgoCD GitOps in a multicluster setup using Open Cluster Management (OCM).

He explained how using the OCM approach, applications can be easily deployed to all of the clusters, a subset of clusters based on filters, or certain selected clusters enabling consistent configuration management in a multicluster or multi-cloud environment.

Sidecar pattern in KEDA to provide better security and access control using Azure AD Workload Identity by Karthikeyan

Karthikeyan talked about autoscaling in general - HPA, VPA, differences and the need for Event-driven scaling. Although his talk focused on Azure AD Workload identity, the pattern he explained could be easily replicated for other identities as well. He then shared the benefits of using the sidecar pattern and Azure AD Workload Identity in serverless architectures and how to set up KEDA to use a sidecar with Azure AD Workload Identity.

He also shared a little bit about his book Developers-Road-ahead which has his lessons on becoming an architect.

Securing Kubernetes: Best practices and effective strategies by Nilesh @Nilesh_93

Nilesh talked about the Kubernetes attack surface layers, different sources of access that can be gained for exploitation, and how to go about securing the Kubernetes control plane by implementing hardened RBAC and network policies, leveraging security contexts and pod security policies, and integrating with identity and access management systems.

Configuration scanning with Checkov, Conftest, Kubesec

Image vulnerability scanning (Trivy)

Container hardening (remove shell as part of start-up probe, make file system read-only, run as NonRoot)
We then broke for lunch. I took a small walk around and clicked a few pictures. Back with high spirits after eating food, we went back to the main hall for the next series of talks.
Despite being a packed event, organizers made sure that the talks were well-paced and that there were enough breaks and opportunities for candid interactions among the attendees.
Many thanks to the organizing team of @kcdchennai for making #KCDChennai2023 memorable and awesome for us!
Follow #KCDChennai2023 - Twitter Thread for all updates shared by organizers, speakers, and fellow attendees.